Food blogger Lesley Garden's daughter Anna lives with the risk of anaphylaxis – she is allergic to peanuts and eggs. The co-author of "Lost In Food" and contributor to LiberEat's recipe bank explains how she discovered her daughter's allergy and how their home life is affected.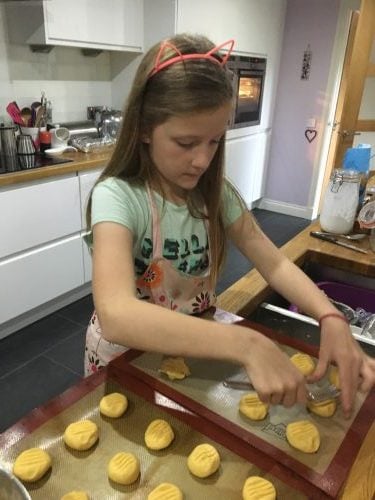 How did you discover your daughter had anaphylaxis?
I discovered Anna's egg allergy when she was a baby. I was weaning her and introducing her to egg. She started to cough and it became clear that she was choking, her throat was swelling and her face was puffing up. At the time it was terrifying it's up there as one of the worst days I've ever had. She has a number of allergies we've since found out, but food-wise she can't eat eggs or peanuts.
Did you access support?
Given the severity of her reaction we were referred to Aberdeen Royal Infirmary for allergy testing. This involved her being admitted as a day patient and having egg painted on her top lip to assess the level of her reaction in a controlled environment. This really did help a lot as we were able to speak to qualified paediatricians and their advice was invaluable. Her diagnosis is that she has severe allergies, but having the right support really did help us at an early stage.
What does it mean practically for you and your family?
Having had to deal with this from her birth it's just something we've all adapted to. Thankfully her food allergies are not airborne which means we don't have to restrict egg or peanut for the rest of the family. I just get into good habits, for example Anna's sandwiches are always made first so there's no risk of cross contamination. We all try to eat the same meals generally, with just a few adaptations when required. There are always little things to be grateful for though, for example Anna is allergic to peanuts but no other nuts so I can always substitute in recipes.
When Anna first went to primary school the staff there were fantastic. They assured me that no nut products were allowed within the school. For her egg allergy they had me mark up a school lunch menu with the meals she was allowed to eat along with her photograph. This gave the canteen staff some reassurance and allowed Anna to take part in lunches with her friends without being the odd one out.
What are your main concerns?
Until this point in her life Anna's eating has been very much under my control. However she started secondary school this year and as a result is becoming more independent. The thought of Anna having an anaphylactic reaction and me not being there is something I try hard not to dwell on.
She has a great grasp of her allergies and understands the need to take care. But it's very easy for someone to put her at risk without meaning to.
How would you describe your attitude to food?
We are a family of committed foodies, none more so than Anna herself who from infancy has had a palette way beyond her years. Allergies aside, most people love feeding Anna. I think that has been the best thing really, if she had been a picky eater then things could have been a whole lot trickier. Although I do notice her staring at an oozy poached egg and she'll ask me "Is that really good?"
Tell us about the Lost in Food blog.
My friend Michelle and I started the blog in May 2014. Initially it was a way of getting down all the recipes that we had in our heads. As much as anything else it was a way to keep my brain active once my youngest daughter went to school. Michelle has a great deal of patience dealing with my 101 ideas daily! It's now a food blog about good quality food cooked at home, appealing to those who love to cook at home. We both love to cook and feed people and these are all recipes we cook ourselves. Our blog is aimed at people who like to cook, who appreciate good food and want to expand their kitchen skills but without being overly complex. We are both busy Mums so we know tasty but simple recipes work best for people. We put a lot of our passion for food into our recipes and photography to try and encourage others to cook and not be scared to try new dishes in the kitchen.
Will the LiberEat app help you and your daughter?
Without a doubt it will. Anna is a great cook herself but she will be able to access recipes that she can cook without me having to supervise. As Anna becomes more independent and wants to eat out with her friends she will be able to access the restaurant listings within the app and see what she can have to eat. This means she doesn't have to be calling me asking "We're going here, what can I have?" It gives her independence and it gives me peace of mind.